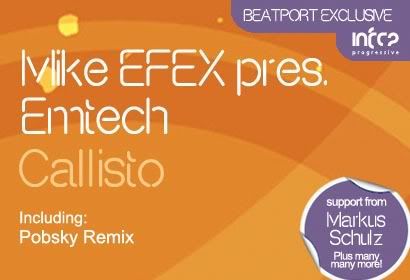 After chalking up a mountain of plays from Markus Schulz on his GDJB show, we have been inundated with emails regarding this tracks full release date. The original package by Mike EFEX landed with a bang last month, and featured two fantastic remixes by Liquid Vision and Daniel Hairston respectfully.
Now featuring an exclusive remix by new comer Pobsky who breathes new life into the package, Callisto is back and bigger than before!
Radio/Dj Support:
Markus Schulz, Marcus Schossow, Ernesto vs Bastian, Arnej, Steve Anderson, Dan Stone, MK S, Duderstadt, Arctic Moon, 7 Skies, Dj Ange, Andrelli & Blue, Ferry Tayle, Sophie Sugar, Sebastian Brandt, Nurettin Colak, Setrise, Bjorn Akesson, Sequentia, Agnelli & Nelson, Jon O'Bir, Danjo & Style, Pedro Del Mar, Mark Eteson, Cold Blue, Manuel Le Saux, Talla XL, Duende, Suncatcher, Steve Brian, M.I.K.E, Daniel Kandi, Jorn Van Deynhoven, Ruben De Ronde, Fast Distance, Vast Vision, The Flyers & Mike Sonar, Haris C, Michael Angelo, Sneijder plus many many more..........
Tracklist:01. Mike EFEX pres. Emtech - Callisto (Pobsky Remix)OUT NOW exclusively at Beatport:
http://bit.ly/qXRL3G
_____________________________
For all info and release dates please visit:
http://www.infrasonicrecordings.com
http://www.facebook....sonicrecordings
http://www.youtube.com/infrasonicrec
http://www.twitter.com/infrasonicrec
http://www.myspace.c...sonicrecordings